Open position
Marcom Specialist
Apply before the 30th of September, 2022, by sending your cover letter and CV to career@biolamina.com. We will have an ongoing selection process so please send in your application as soon as possible.
Are you passionate about Marketing? Are you looking to create a strong impact in the journey of a growth company with your Marketing knowledge and hands-on skills? If yes, this is the right role for you.
BioLamina is looking for a Marcom specialist who supports the sales effort and the overall branding through communication and promotion of BioLamina and its products. This is a global role, and you will report to the Chief Commercial Officer and will be based in Sundbyberg, Stockholm.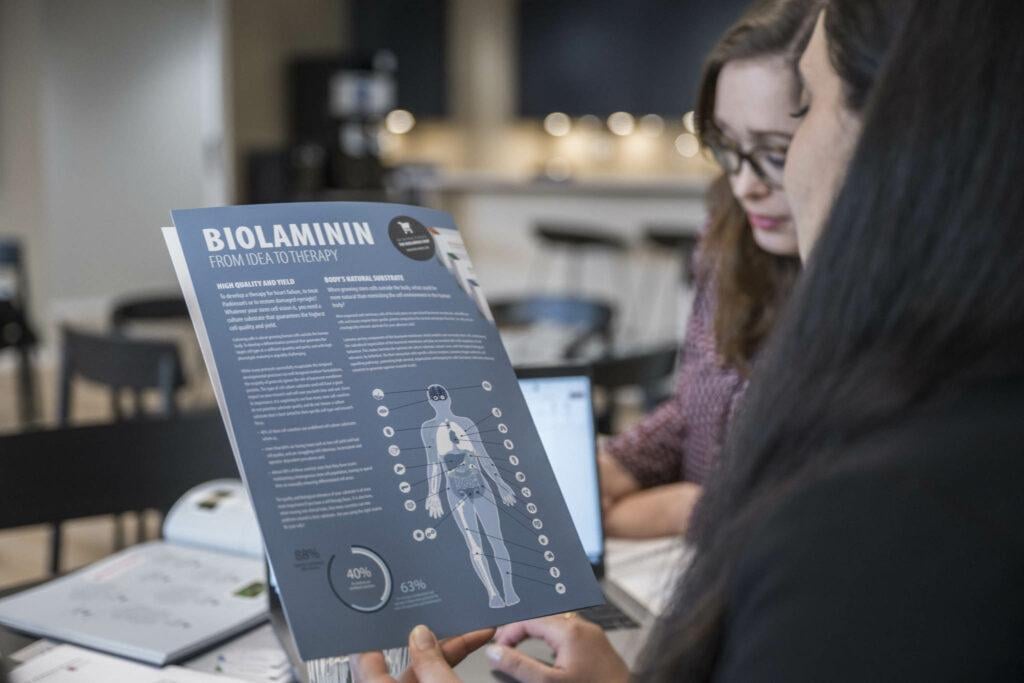 Role and responsibilities
Create and deploy internal/external communications
Responsible for event (congresses, webinars) planning, execution, and follow-up to ensure an on time, within budget and optimized BioLamina presence
Manage development of marketing materials including brochures, and white papers
Manage development of content for digital media and implementation of digital media strategy e.g. LinkedIn activities and paid campaigns
Website update, optimisation, development and tracking of activity
Create marketing campaigns in conjunction with product management
Work with external agencies for event and marketing material deliveries
Work with Sales and distributors/OEMs to develop sales tools kits
Plan and execute automated marketing programs
Manage marketing activity calendar, budget and resource allocation
Assess marketing activity effectiveness/ROI
Plan and execute customer satisfaction surveys
Qualifications and Education requirements
Master's or Bachelor's degree in Marketing, Business/Administration, Communications or alike
Knowledge and experience within international B-2-B preferably life sciences
3+ years experience in a similar Marcom position
Strong toolbox from mid-size / larger established companies
Knowledge of CRM – campaign and survey set-up
Experience with Adobe Creative Suite
Experience in copywriting and PR will be preferred
International work experience a plus
A proactive team player with strong collaboration skills
Working from Sundbyberg, Stockholm
30 travel days including to the US to support congresses and other activities
Proficiency in English
Is this you? Welcome with your application!
What can we offer you?
At BioLamina you will be offered an interesting role in an international and value driven business, working with colleagues who are dedicated and high performing. We believe our products can change the world and we have high ambitions to do so. BioLamina is a learning organization, and we do this from each other and from the outside. We value our employees, and we are committed to ensuring that the work environment is pleasant, sustainable, and safe.
We pride ourselves in providing an equal workspace making sure people are given equal opportunities, equal pay, and are well accepted for their differences. We embrace diversity and inclusion in all aspects of our business.
Application & more information
Please submit your CV and Cover Letter before 2022-09-30. Please include the line "Marcom Specialist" in the e-mail subject line. Please submit your application to: career@biolamina.com
We will have an ongoing selection process so please send in your application as soon as possible.
About BioLamina
BioLamina is a biotechnology company built on a scientific foundation with a legacy in matrix biology and cell culture-based research. BioLamina offers a unique portfolio within the fast-growing stem cell, and cell therapy markets, and the products are well recognized by the international stem cell community. BioLamina's vision is to become the leading global provider of cell culture solutions to enable lifesaving therapies. For more information, please see http://www.biolamina.com.