Open position
BioProcess Operator
Scope: Full-time
Duration: Until further notice
Type of employment: Permanent or temporary position
Do you have experience within process industry and want to work with products that can really make a difference in the field of regenerative medicine?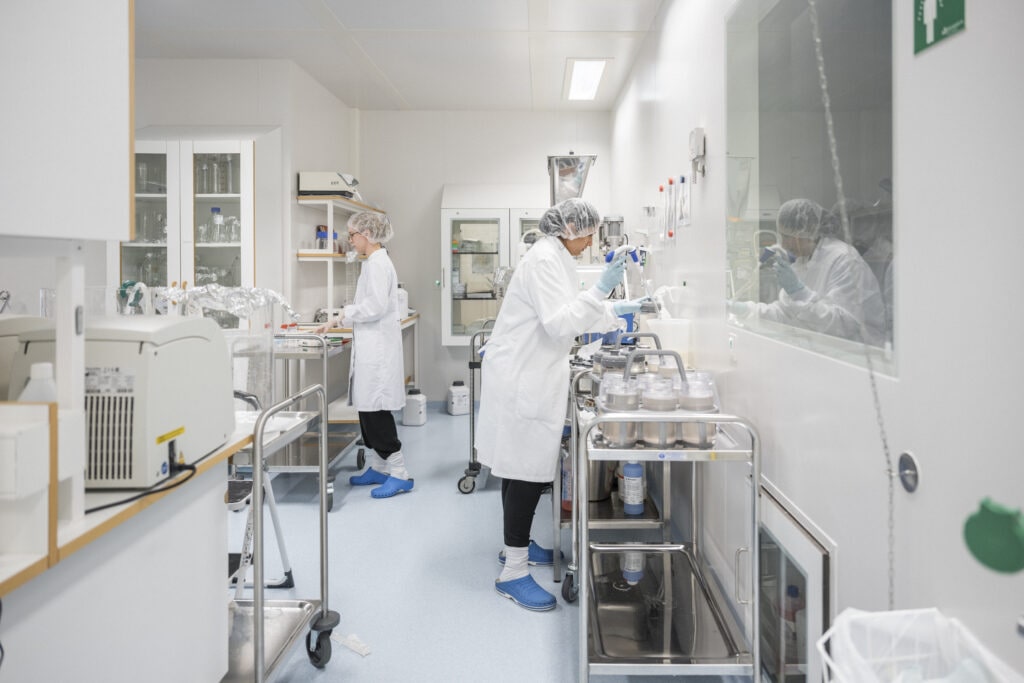 Join our production team that produces human recombinant laminins that are sold as a culturing platform for different types of primary cells. The demand for our products is increasing around the world and we therefore need to expand our production team in Sundbyberg, just outside Stockholm. We are looking for a thorough and detail-oriented BioProcess Operator.
Role and responsibilities
The Process Operator is part of the Biolamina Production team, responsible for manufacturing (cell vial to finalised & labelled product in vials) of high-quality recombinant proteins according to defined processes (LN and CAP) according to written procedures to fulfill ISO 9001 QMS and applicable laws and regulations.
The process operator participates actively in all areas of production where trained/certified to carry out the tasks, working independently as well as part of a team. Responsible for delegated areas within the overall responsibility of department.
Performing production of recombinant proteins according to written procedures for which training/ certification has been received. LN process and CAP process; upstream and downstream operations, media and buffer preparations; equipment handling and cleaning; materials handling; production and facility support
Documentation of activities according to QMS by recording events in for example BPRs, logbooks, stock cards as well as reporting of unexpected events in applicable reports.
Identify/Participate in deviations investigations, CAPA and Change Control activities.
Update SOPs and BPRs.
Hold specific responsibilities to manage production system e.g., responsibility of Equipment according to Equipment list and FMS on-call responsibility.
Qualifications and Education requirements
Process operator, chemical industry – 1-2 years of experience
The ideal candidate will have a laboratory science background and/or previous experience of working in the process industry with upstream processing, or equivalent qualification. Experience from downstream processing is an advantage but not a requirement.
Experience of cell culturing is an advantage
Experience in biotechnological production of recombinant proteins, aseptic working technique, cleanrooms is an advantage.
Reliability, interpersonal skills and attention to detail are highly valued
Bachelor's degree within Science, technology, biochemistry is required
Basic office computing skills – Word and Excel
Working according to GMP it is an advantage but not a requirement.
Good knowledge of English both spoken and in writing. Knowledge of Swedish is a plus.
In general:
Adhere to relevant safety and quality standards, for process efficiency, product safety and operational safety.
Report observations/ deviations within and outside delegated responsibility.
Perform work in compliance with the BioLamina Quality Management System (QMS) and contribute to continuous development of the QMS.
Keep own training and training documentation up to date.
Plan and perform own work in accordance with department prioritisations and goals.
Contribute to continuous development of company and department performance and smooth day- to -day running of the production and well-being of the team.
Is this you? Welcome with your application!
What can we offer you?
At BioLamina you will be offered an interesting role in an international and value driven business, working with colleagues who are dedicated and high performing. We believe our products can change the world and we have high ambitions to do so. BioLamina is a learning organization, and we do this from each other and from the outside. We value our employees, and we are committed to ensuring that the work environment is pleasant, sustainable, and safe.
We pride ourselves in providing an equal workspace making sure people are given equal opportunities, equal pay, and are well accepted for their differences. We embrace diversity and inclusion in all aspects of our business.
Application & more information
Send your application, including CV and Cover Letter, to career@biolamina.com
Placement from earliest February, with reservation of withdrawal depending on forthcoming decisions and planning.
About BioLamina
BioLamina AB is a Swedish based Biotech company that originates from scientific innovations at Karolinska Institute. Our main products are recombinant laminins, human proteins that are being used to maintain and expand pluripotent stem cells and other primary cell types and for subsequent differentiation into different specialized cell types. BioLamina is revolutionizing cell culture and our products are being used by researchers to develop cellular therapies, building on the era of regenerative medicine. Founded in 2009, BioLamina has grown organically and today we are about 55 employees who develop, produce, market, and sell cell culture research reagents to academic and industrial scientists globally. For more information, please see: http://www.biolamina.com
At BioLamina we are striving to work according to GMP within a few years. The company has a certified quality system according to ISO 9001:2015..
BioLamina is a member of IKEM – Innovation and Chemical Industries in Sweden. IKEM has collective agreements with relevant trade unions of the sector, and as a member Biolamina is fulfilling terms of employment according to collective agreement.