Open position
Procurement Specialist
Please submit your application before 2023-01-13. We will have an ongoing selection process so please send in your application as soon as possible.
Do you have experience from purchasing and planning of direct material in a production environment? And preferably, procurement experience within biotech, pharmaceutical or other equivalent industry?

Have an interest in technology, capacity planning and warehouse optimization within an entrepreneurial and fast paced organization, where no two days are the same and where you make a real impact every day?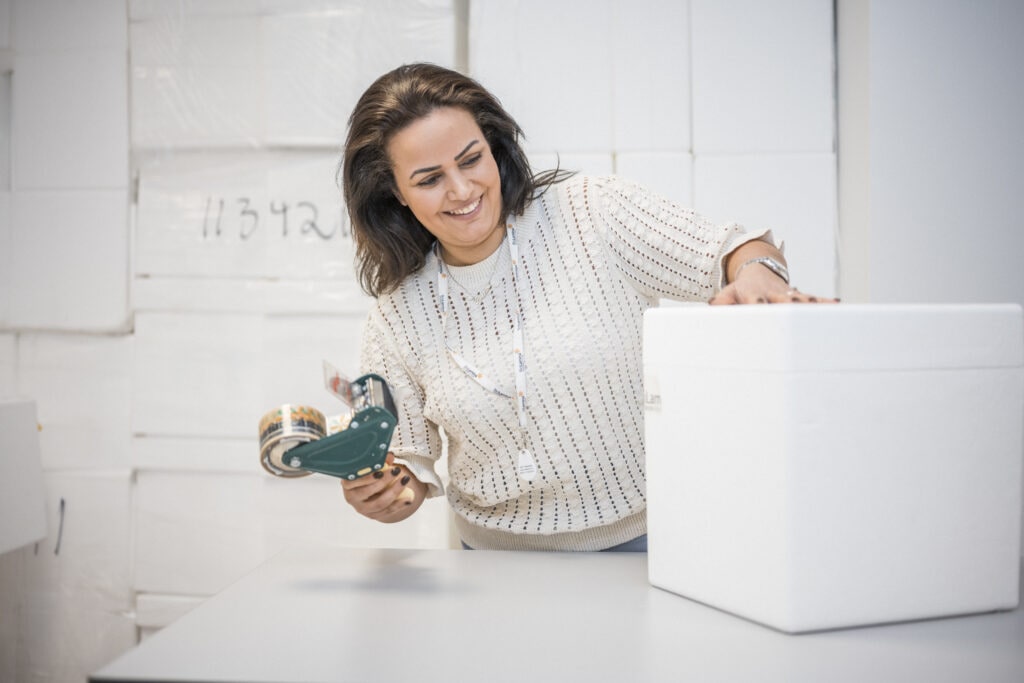 You will work in an international environment in close collaboration with suppliers and internal stakeholders. The business is within enormous growth, and you will work closely with Supply Chain Management, Production, Logistics and Sales to fulfill the needs for Production and our Customers. This requires experience in purchasing and logistics from a production environment where production plans are transferred into tactical and operational cooperation with our Suppliers.
You will be part of a dynamic team that is responsible for strategic sourcing, operational purchasing, sales planning, order management, customer service and distribution. The supply chain team and BioLamina is in a developing phase with high focus on improving our supply chain and meet our KPIs and targets. The role will, heavily, be part of implementation and development of our ERP (SAP Business One) in relation to procurement operations and of our Sourcing strategy to ensure the strong growth in our business and sales.
Role and responsibilities
Plan and coordinate the hands-on work within operational and tactical sourcing activities. Develop purchasing routines and processes. Develop and implement usage of SAP Business One within the procurement area, including master data management and administrative routines.
Develop and implement routines and processes supported by SAP Business One.
Drive the allocation of volumes with each supplier based on forecasts
Drive increased efficiency with the existing suppliers
Create purchase orders to suppliers in ERP system, delivery monitoring, support questions and manage changes in delivery plans.
Work closely with the logistics forwarders to monitor incoming deliveries
Together with Supply Chain Management drive supplier development, performance score card, negotiations etc
Analyze the product platform cost breakdown and seek improvements
Updating price lists, agreements and be part of developing the warehouse and logistic flows
Contribute to the development and implementation of sourcing and category strategies in liaison with Production and Supply Chain Management.
Maintain master data, e.g., ensure contract price lists updates in ERP system
Qualifications and Education requirements
5 years documented experience of ERP systems preferably SAP Business One or equivalent
Track record of working with ERP development or implementation in a production environment.
Experience from biotech or pharmaceutical industry is highly valued
Knowledge in SharePoint and MS Office
Excellent English written and verbal communication skills. Additional language skills are a merit.
You'll be a great addition to the team if you:
Are results-driven with a strong drive to act and make things happen
Like working in a fast-paced environment with a high workflow of activities
Can take initiative and work independently
Enjoy change and want to explore and develop new ways of working to achieve improvements
Have a high level of integrity
Is this you? Welcome with your application!
What can we offer you?
At BioLamina you will be offered an interesting role in an international and value driven business, working with colleagues who are dedicated and high performing. We believe our products can change the world and we have high ambitions to do so. BioLamina is a learning organization, and we do this from each other and from the outside. We value our employees, and we are committed to ensuring that the work environment is pleasant, sustainable, and safe.
We pride ourselves in providing an equal workspace making sure people are given equal opportunities, equal pay, and are well accepted for their differences. We embrace diversity and inclusion in all aspects of our business.
Application & more information
Please include the line "Procurement Specialist" in the e-mail subject line. Please submit your application to: career@biolamina.com. If you have any questions about the position, please contact Head of Supply Chain: Martin Zaar at martin.zaar@biolamina.com
Location: Biolamina in Sundbyberg. with good communications through public transportation (SL), e.g., through subway, light railway, bus, and commuter trains. There are also indoor parking opportunities
available (tax benefit).
Terms of employment: the position is a full-time, open-ended, employment with an agreed Probationary period.
Start date: February 1st or after mutual agreement.
About BioLamina
BioLamina in Sundbyberg is a Swedish biotech company with global clients within research, biotech, and pharma. We are a growing team of 55 people working within production, R&D, quality, sales, marketing, logistics and customer service. BioLamina produces and develops premium laminins, which are proteins used in e.g., stem-cell research. The company has a certified quality system according to ISO 9001:2015. We pride ourselves on being a sociable and inclusive workplace. For more information, please see http://www.biolamina.com.