Contact us for new opportunities
We are a growing company and are always excited to hear how you could help on our way forward. Please send your open application to career@biolamina.com or come visit our Contact page again for new job announcements. You can also follow us on LinkedIn so you don't miss new exciting opportunities.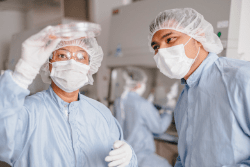 Working at BioLamina
At BioLamina, we want to be recognized for our premium products, competence, and service. Being an accountable partner, both towards colleagues and cus­tomers, is central in our organization. We are trustworthy: we do what we say we will do, and we do it with our hearts. We want to help scientists who have struggled for decades to culture primary cells in their efforts to answer scientific questions, advance cell production and therapies, or model diseases for drug testing. By providing tools for efficient and easy culture, BioLamina aims to smooth the path toward safe and effective solutions for health.
BioLamina is a learning organization: we learn from each other and from the outside. Your colleagues will be dedicated and high-performing. We pride ourselves on providing an equal workspace making sure people are given equal opportunities, equal pay, and are well accepted for their differences. We embrace diversity and inclusion in all aspects of our business. BioLamina is ISO-certified, providing quality products and services.
BioLamina is a member of IKEM (Innovation and Chemical Industries in Sweden). IKEM has collective agreements with relevant sector trade unions, and as a member, BioLamina is part of the collective agreement. Employment with us includes a beneficial pension policy and a generous wellness allowance. There is insurance for sickness, in case of loss of income, counseling and call support, rehabilitation as well as life and accident insurance. 
About BioLamina
BioLamina is a biotechnology company built on a scientific foundation with a legacy in matrix biology and cell culture-based research. Our main products are recombinant laminins, human proteins that are being used to maintain and expand pluripotent stem cells and other primary cell types and for subsequent differentiation into different specialized cell types. BioLamina is revolutionizing cell culture and our products are being used by researchers to develop cellular therapies, building on the era of regenerative medicine. Founded in 2009, BioLamina has grown organically and today we are more than 50 employees who develop, produce, market, and sell cell culture research reagents to academic and industrial scientists globally.