Biolaminin 521 MX (MX521)
Human recombinant laminin 521
Biolaminin 521 MX is the natural laminin for pluripotent stem cells and therefore reliably facilitates self-renewal of human ES and iPS cells in a chemically defined, feeder-free, and animal origin-free stem cell culture system. MX521 enables efficient single-cell passaging of genetically stable and pluripotent stem cells without the need for any apoptosis inhibitors for the superior quality of your cells and studies.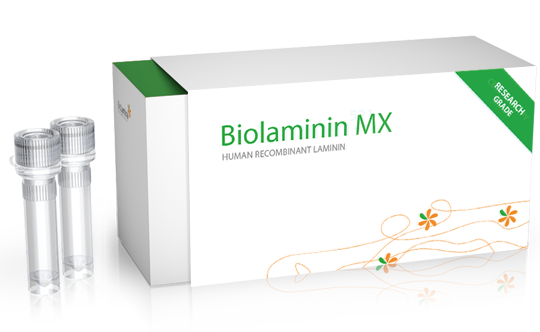 A biologically relevant culture environment
Recreating the natural cell niche is key to successful cultivation. The physical, topological, and biochemical expression of the different laminin isoforms in the BM is heterogeneous and tissue-specific.
Biolaminin 521 MX (MX521-0501) is a full-length, human, recombinant laminin 521 substrate, the only one of its kind on the market, providing an optimal environment for feeder-free culture of hPSCs. Laminin 521 is a key cell adhesion protein of the natural stem cell niche, expressed and secreted by hPSCs in the inner cell mass of the embryo. The Biolaminin 521 substrate recreates a biologically relevant hPSC milieu in vitro, promoting attachment, high survival, and robust long-term self-renewal of hPSCs. In addition, the more authentic culture environment primes the pluripotent stem cells for more efficient differentiation, enhanced cell maturation, polarization and organization of specialized cell types.

The laminin 521 cell culture substrates have a positive effect on stabilizing and homogenizing pluripotent gene expression profiles between hES cell lines, providing a more controllable and robust culture system compared to the feeder- and many other feeder-free culture systems. Via the interaction with relevant cell surface receptors, laminins activate cell signaling cascades (e.g. PI3K/Akt pathway), giving consistent cellular responses and improved cell functionality, ultimately saving researchers both time and cost.
After birth, α5-laminins represent the most common laminins in the body and MX521 supports many diverse tissue cell types, such as cells from the pancreas, vascular, nervous, and muscular systems.
---
---
Recommended applications
Pluripotent stem cells

Biorelevant culture of human ES and iPS cells on Biolaminin substrates Biolaminin 521 successfully replicates the genuine human stem cell niche […]

VIEW application
Key features
Biolaminin 521 MX is animal origin-free to the secondary level according to the ISCT guidance document ˮISCT Animal-Free Origin Survey Results-Summary".
Biolaminin 521 MX works well in any protocol using any commercially available medium. The substrate supports attachment and robust expansion of hPSCs seeded as single cells and small colonies, without the need for artificial apoptosis inhibitors. The cells grow in a homogeneous monolayer and are easy to monitor, with maintained pluripotency and genetic integrity.
Biolaminin 521 MX provides a robust and forgiving culture environment and allows for operator-independent culture maintenance that is reliable, standardized, and easy to monitor and control.
Improved culture system
The MX521 stem cell substrate enables a high expansion rate, monolayer homogenous growth, and maintained pluripotency. Cells are genetically stable without karyotypic abnormalities. hESC and iPSC grow faster on MX521 compared to cells cultured on feeders or on another feeder-free matrix, facilitating automation. Human pluripotent stem cells can routinely be cultured as single cells without the addition of ROCKi. MX521 also supports efficient clonal survival and expansion of hES and iPS cells, greatly facilitating the study of genomic alterations and manipulations in pluripotent cells. Furthermore, it renders more efficient reprogramming of specific tissue cells to iPSCs.
The instructions include recommendations for transfer, passaging, thawing, and cryopreservation of hPSCs on MX521.
Important notes
"For Research Use Only"
Avoid long exposure of the protein to ambient temperatures
MX521 is animal-origin free to the secondary level, according to the ISCT guidance document ˮISCT Animal-Free Origin Survey Results-Summary".
The laminin stock solution is long-term stable when stored at -20°C to -80°C. Please refer to the product-specific CoA for shelf life details.
Repeated freeze-thawing should be avoided. If desired, the laminin stock can be dispensed into working aliquots and stored at -20°C to -80°C. Thawed, undiluted laminin stock is stable for at least 3 months when stored at +2°C to +8°C under aseptic conditions.
Avoid long exposure of the protein to ambient temperatures.
For your convenience, the coated plates can be kept for up to 4 weeks when stored aseptically at +2°C to +8°C.
The protocols can easily be made totally defined and animal origin-free with your choice of culture medium and dissociation reagent.
It is important that the cells transferred to the MX521 matrix are of high quality.
Some hPSC lines transferred to the MX521 matrix, might require an adaptation period before they can be cultured according to the single-cell passaging protocol.
Once adapted to the MX521 matrix, hPSCs can be routinely cultured as single cells without ROCKi.
Troubleshooting
Biolaminin plate coating
An uneven cell spread is often a coating issue and could be caused by the following:
Too low coating concentration used. Increase the coating concentration is high enough to support even cell growth.
Bad coating coverage/the plate has dried out. Ensure that the entire surface is covered by the laminin coating solution when preparing fresh plates. Also, do not let the plate dry out as this will inactivate the laminin coating. Too long time in the incubator or long storage without sealing could cause too much evaporation so that part of the plate dries out (often in the center).
hPSC splitting and seeding
We recommend single-cell passage or passage as small clumps.
Stem cells are sensitive and when using an enzyme, do not treat the cells too long as that will damage the cells. Cells attach tighter on laminin compared to other matrices and scraping or pipetting without first loose up cells can affect cell integrity and viability which could result in less attachment the next day. Less confluent cells need shorter treatment time whereas more confluent cells might need longer treatment time. The cells should detach easily without too much pipetting needed. Do not use too much mechanical force (extensive pipetting or scraping) as that will damage the cells. Increase the dissociation reagent incubation time rather than increasing the force. If the cells stick very hard to the MX521 surface, try to lower the coating concentration.
After seeding: most cells should have attached after 1 hour and the cells should be evenly distributed over the entire plate. If there is a lot of cell death after seeding, the cells have most likely been treated too harshly during splitting.
The day after seeding: the cell has migrated and should have formed small colonies and will continue to expand as a homogenous monolayer. Cells cultured on the MX521 matrix are ready to be passaged when cell culture is 60-99% confluent. Depending on the cell line, seeding density and on the medium used, cultures are usually passaged 3-6 days after seeding.
Transfer from other substrates
We recommend to transfer the cells as single cells (or as small clumps) and always with the addition of ROCKi for the first few (3-5) passages. Once the cells are adapted to the MX521 matrix, the cells can be cultured as single cells without ROCKi. This may take up to 5 passages.
If the cells are hard to adapt, try increasing the coating concentration to 10 ug/ml and seed at a higher cell density 50,000 – 100,000 cells/cm2. Once the cells are adapted a lower coating and seeding concentration often can be used.
It is important that the cells transferred to the MX521 matrix are of high quality. MX521 will generally also support differentiated cells so carefully select only undifferentiated cell areas for transfer.
MX521 works well in combination with most commercial media brands. However, it is to be expected that cell morphology will look different depending on the medium used for culture.
Product name
Biolaminin 521 MX
Declaration
For research use only
Appearance
Clear, colorless solution with a pH of 7.5 with 20mM HEPES, 0.25M NaCl, 10% glycerol
Shipping condition
Dry Ice
Protein name
Laminin 521 (Laminin-11)
Classification
Animal origin-free, human recombinant protein
Product application
Culture of human embryonic and induced pluripotent stem cells (hESC and hiPSC), mesenchymal stem cells (MSC) and most anchorage-dependent progenitor cell types. Differentiation and maintenance of specialized cells, such as hepatocytes, cardiomyocytes, and neurons.
Rodin S., Antonsson L., Niaudet C., Simonson O.E., Salmela E., Hansson E.M., Domogatskaya A., Xiao Z., Damdimopoulou P., Sheikhi M., Inzunza J., Nilsson A.S., Baker D., Kuiper R., Sun Y., Blennow E., Nordenskjöld M., Grinnemo K.H., Kere J., Betsholtz C., Hovatta O., Tryggvason K.
Nature Communications, 2014
Rodin S., Antonsson L., Hovatta O., Tryggvason K.
Nature Protocols, 2014
Laperle A., Hsiao C., Lampe M., Mortier J., Saha K., Palecek S.P., and Masters K.S.
Stem Cell Reports, 2015
Albalushi H., Kurek M., Karlsson L., Landreh L., Rós Kjartansdóttir K., Söder O., Hovatta O., Stukenborg J-B.
Stem Cell International, 2017
Zhang D., Yang S., Toledo E.M., Gyllborg D., Saltó C., Villaescusa J.C., Arenas E.
Sci Signal. 2017
Size guide
Not sure how much laminin you need? To make it easy, we have created a tool where you can calculate the amount needed for your experiments. Just choose culture well format and fill in the desired coating concentration to see the amount required.