Biosilk
Biosilk™ is a 3D culture matrix for the expansion and long-term differentiation of human primary cells and a scaffold for organoid formation.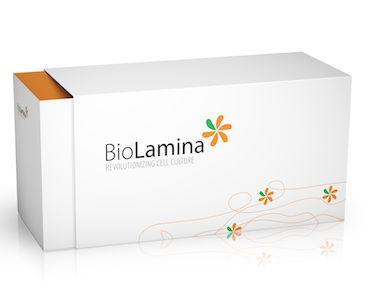 Benefits of Biosilk fiber scaffold
Biosilk self-assembles into a fibrous network that mimics the dimensions of ECM and promotes cell-cell and cell-matrix interactions. The Biosilk network is flexible and supports cellular remodeling, self-organization, and morphogenesis.
In the Biosilk fibrillar network, nutrients can flow into the inner part of the organoid, giving more effective and uniform cellular specialization and organization. Cells do not need to be encapsulated.
Biosilk is a completely defined recombinant spider silk protein matrix that is non-immunogenic and biodegradable, further facilitating its use in clinical applications.
3D models are pursued to reproduce the way cells grow and interact with each other and the microenvironment in native tissues. To provide proper microenvironmental contacts and support correct cell phenotype, Biolaminin isoforms can be added into different organoid culture systems. Especially, the Biosilk 3D network can be easily biofunctionalized with Biolaminin isoforms and other extracellular matrix proteins. This results in a more tissue-like microenvironment in which the integrin-involved attachment to the Biosilk fibers gives the cells an elongated shape, with organized cytoskeletons and the formation of defined focal adhesion points.Increased biological relevance increases the chances of capturing robust and applicable experimental and pre-clinical results.
All our matrices are chemically defined and animal origin-free, which makes them ideal substrates for each level of the scientific process – from basic research to clinical applications.
Biosilk is made of recombinant silk protein
Biosilk fibers consist of shorter versions of spider silk protein, spidroins, which are biofunctionalized with an RGD-containing motif sequence. Biosilk can be further supplemented with any of the Biolaminin substrates for improved cell functionality. Biosilk 521 contains Biosilk with pre-mixed laminin-521.

Simple to use – no special equipment needed
Homogenous organoids without necrotic centers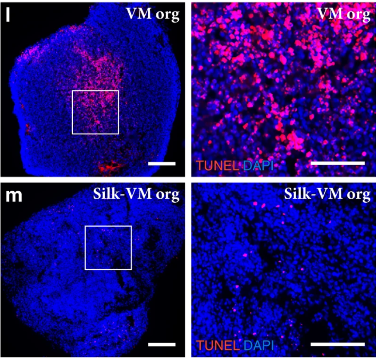 ---
Recommended applications
3D culture

Biosilk and Biolaminin key advantages 3D cell culture and organoid formation 3D culture systems for disease modeling, drug screening, and […]

View application
Key features
Efficient diffusion of oxygen, nutrients, and patterning factors make it possible to generate larger organoids with more effective and uniform cellular specialization and organization without increased risk of necrotic centers.
Contrary to cells encapsulated in a hydrogel, the cells seeded in Biosilk survive, are highly proliferative, and migrate to initiate cell-cell contacts. The attached cells become more elongated and develop defined focal adhesion points. The mild assembly process, where the cells are included already during the assembly of the 3D construct, enables an instant and even cell integration and attachment between the Biosilk microfibers.
Biosilk is a natural biomaterial made of recombinant silk. The recombinant Biosilk fibers have been implanted subcutaneously in rats without any negative systemic or local reactions. After implantation, newly formed capillaries and fibroblast-like cells have been identified which indicate the formation of vascularized tissue.Biosilk is biodegradable, likely through endocytosis by macrophages and subsequent intracellular proteolysis. This facilitates its use in clinical applications.
The functional and mechanical properties of Biosilk enable cellular remodeling, self-organization, and morphogenesis. Biosilk 521 (Biosilk with Biolamininn 521) has been successfully used for hPSCintegration, expansion, and efficient long-term in situ 3D differentiation into neural (forebrain, midbrain, cerebral and glial organoids), pancreas, and skin applications.
Biosilk 521 is a natural biomaterial made of recombinant silk and laminin-521 to better mimic the natural, cell-specific environment.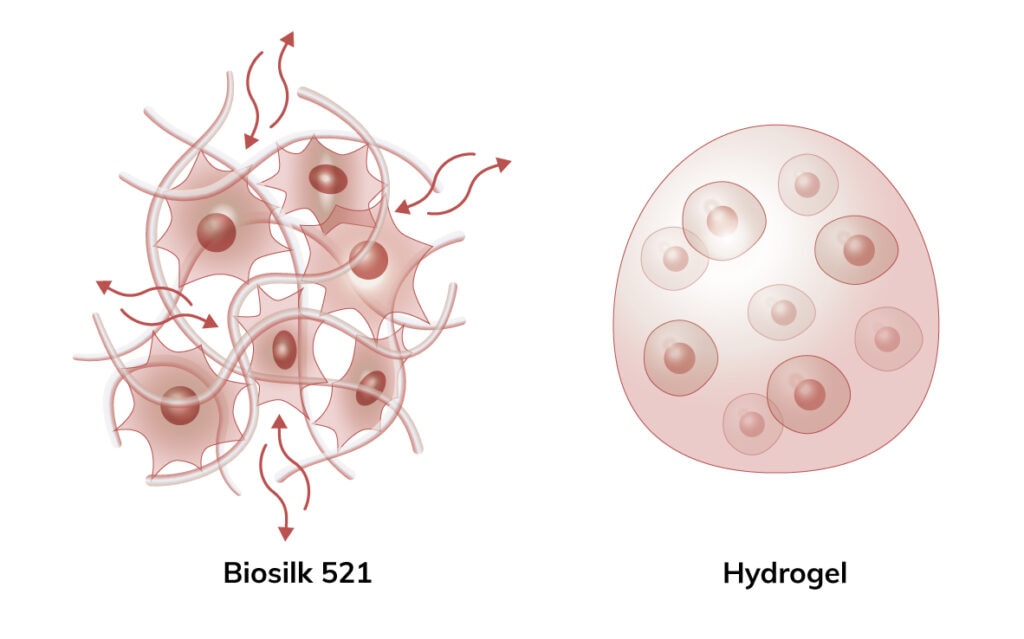 Application note: Biosilk
Application note: Brain organoids in Biosilk
Biosilk foam morphology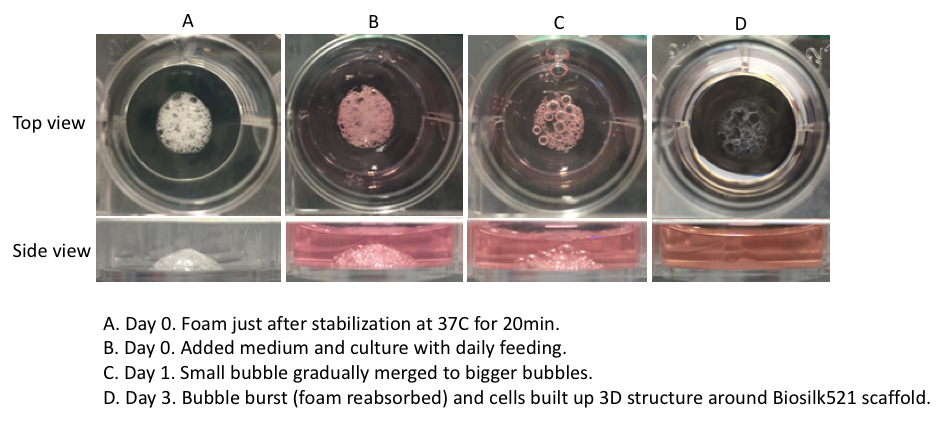 Cells attached to Biosilk mixed with laminin 521

Biosilk mixed with extracellular matrix proteins
Biosilk can be easily functionalized with different laminin isoforms. For example, Recombinant human laminin-521 (Biolaminin 521) has been shown advantageous in promoting self-renewal and pluripotency of human pluripotent stem cells. To create a 3D niche suitable for hPSCs, Biosilk 521 (Biosilk pre-mixed with Biolaminin 521) should preferably be used.
Examples of cells cultured in Biosilk
Differentiation of multipotent adult stem cells in Biosilk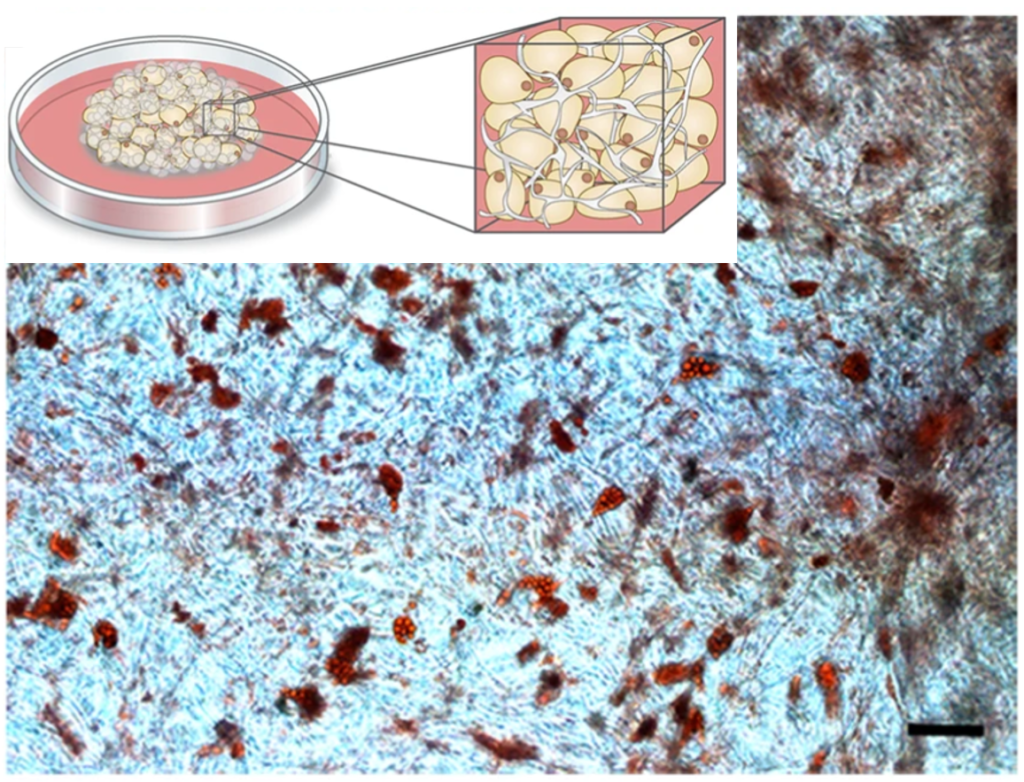 Instructions of use
How to generate a Biosilk 3D network with evenly integrated cells
A 3D foam structure can easily be generated by the gentle introduction of air bubbles into the Biosilk solution. The cell suspension is mixed into the foam, and the silk with cells assembles into a thin film around each bubble. The bubbles disperse and the foam transforms into a stabilized 3D network with uniformly integrated cells between the microfibers.

Important notes
All steps must be carried out under aseptic conditions
Biosilk should be stored at -80°C
Gently thaw the Biosilk solution at RT without moving the vial
Do not vortex or shake the vial and be careful when mixing to avoid the introduction of air bubbles
The Biosilk products have to be used within 45-50 min after thawing
Re-freezing or long-term storage of thawed Biosilk solution in the fridge is not possible as this will affect product stability and functionality
1 vial of BioSilk is enough material to generate 12-13 foams (24 well format)
Hydrophobic surface culture plates should be used.
The cell suspension should be prepared fresh before mixing into the Biosilk to ensure high cell quality
For research use only
Protocol
Preparation
Thaw the Biosilk solution at RT without moving the vial

Add Rock inhibitor to the thawed solution to a final concentration of 10 µM. Gently pipette 3 times.
Note:
! Do not vortex or shake the vial and avoid the introduction of air bubbles.
! It will take around 12 min for the frozen Biosilk solution to thaw at ambient temperature. For the best result, the thawed solution should be used as soon as possible, the latest within 1 hour from removal from -80 °C. The thawed Biosilk solution will gradually turn milky in ambient RT.
Prepare a concentrated single-cell suspension according to "Instruction For Use BL003". For a vial of Biosilk or Biosilk 521, prepare a concentrated cell suspension of a total of 7-14 x105 cells in 25 μL of medium (roughly 20 000 – 60 000 cells/μL) supplemented with 10 μM ROCK inhibitor.
Note:
! The cell suspension should be prepared freshly before mixing into the Biosilk solution to ensure the best cell viability. For best foam stability, prepare the cell suspension for the foam incorporation beforehand or during the Biosilk thawing time.
! Optimize the cell incorporating density for best amplification in the 3D scaffold, as this is cell type-dependent and needs to be adjusted accordingly.
Prepare a Biosilk-Cell suspension mixture cell suspension (25 μL), and 10mM ROCK inhibitor (0.27 μL) to the thawed Biosilk solution (250 μL). The final mixture will have a concentration 10 μM ROCK inhibitor. Mix by gently pipetting 3 times without introducing air bubbles. The Biosilk-cell suspension mixture should be used within 10 min to ensure high cell viability. Biosilk can be biofunctionalized with Biolaminin. Just add Biolaminin 521 or an isoform of choice to the Biosilk solution (25 μL). The final mixture will have a concentration of 10 μg/mL Biolaminin.
Note:

! If the Biosilk 521 (BS521-0101) pre-mixed product is used, the manual addition of Biolaminin can be omitted unless a mix with an additional Biolaminin isoform is desired.
! Be careful when mixing to avoid the introduction of air bubbles as this will cause premature fiber formation.
3D scaffold formation and maintenance
Transfer 20 μL of the prepared Biosilk-cell suspension solution to the center of a well.

Use a pipette set at 44 μL, to push air bubbles into the droplet by quick pipetting up and down 22 times, thereby creating a dense foam. Spread out the foam in circular motions with the pipette tip during pipetting to an area covering 0.7-1 cm in diameter. See the protocol described in Fig. 1.

Note:
! Insufficient (<22) or excessive (> 25) pipetting for the foam formation will result in an unstable scaffold or low cell viability, respectively.
! If the cells are sensitive to pipetting, an increased cell seeding density could help to increase cell viability. Alternatively, the cells could be mixed in after the foam has been generated. In this case, add 20 uL Biosilk solution to the well and use a pipette, set at 40 uL, to push air bubbles by quickly pipetting up and down 20 times. Add 1-4 μL dense cell suspension (roughly 20 000 – 60 000 cells/μL) for each foam and mix by pipetting an additional 5 times. See the protocol described in Fig.2.
! It takes approximately half to one minute to generate each foam. We recommend thoroughly planning the procedure for the best cell- and foam quality.

Repeat step 4.1 to 4.2 to create the desired number of foams. The solution is sufficient for creating 12 – 13 foams.

Place the lidded plate with the cell-containing foams in an incubator at 37°C for 20 min. During this time, the Biosilk product polymerizes and the 3D structure is stabilized.

Remove the plate from the cell incubator. Gently add 0.7-1 mL per well of the pre-warmed medium containing 10 μM ROCK inhibitor, starting dropwise around the foam before slowly filling up to cover the foam.

Place the plate back into the incubator.

Feed the cells daily or at an appropriate frequency with fresh culture media without ROCK inhibitor.
Biosilk organoid differentiation
Pluripotent stem cells seeded in Biosilk foam generally need to be cultured in medium supporting pluripotency for 4-5 days with daily feeding to reach the desired confluence before switching to differentiation medium. Depending on lineage differentiation and protocol used, culture for 1 to 2 weeks in a suitable medium with appropriate feeding frequency is needed.

When cells have reached the desired confluency within the microfibrillar network, manually detach the foam from the bottom of the well using a cell scraper or a pipette tip. Cut the foam structure into 2 -4 pieces (approx. 2 mm thick) using a blade or a pair of small scissors and transfer to new low-attachment culture plates for culture as free-floating entities.

Note:
! Before the foam can be detached from the culture surface for free-floating organoid culture, the cells first have to be amplified in the attached foam. It usually takes 1 to 2 weeks to generate the desired confluency.
! Embedding the organoid in Matrigel is not needed to maintain the organoid shape and cell phenotype. If embedding is preferred, a xenofree and defined material is recommended (e.g. HyStem™ available from Merck).
! If using a cell type other than hPSCs, culture with appropriate culture medium and feeding frequency before detaching the foam for free-floating organoid culture.

Feed the free-floating organoid cultures at an appropriate frequency until further analysis or desired applications.
Declaration
For research use or non-commercial manufacturing of cell, gene, or tissue-based products
Stock concentration
3 mg/ml
Appearance
Clear, colorless
Shipping condition
Dry Ice
Stability
24 months
Product description
Recombinant spider silk protein for 3D culture applications
Classification
Defined and animal origin-free, human recombinant protein
Product application
Human PSC expansion and differentiation
Åstrand C, Chotteau V, Falk A, Hedhammar M.
Biomater Sci, 2020
Johansson U, Widhe M, Shalaly ND, Arregui IL, Nilebäck L, Tasiopoulos CP, Åstrand C, Berggren PO, Gasser C, Hedhammar M.
Scientific reports, 2019
Gomes S, Gallego-Llamas J, Leonor IB, Mano JF, Reis RL, Kaplan DL.
J Tissue Eng Regen Med, 2017