Applications – Dopaminergic neurons
Dopaminergic neurons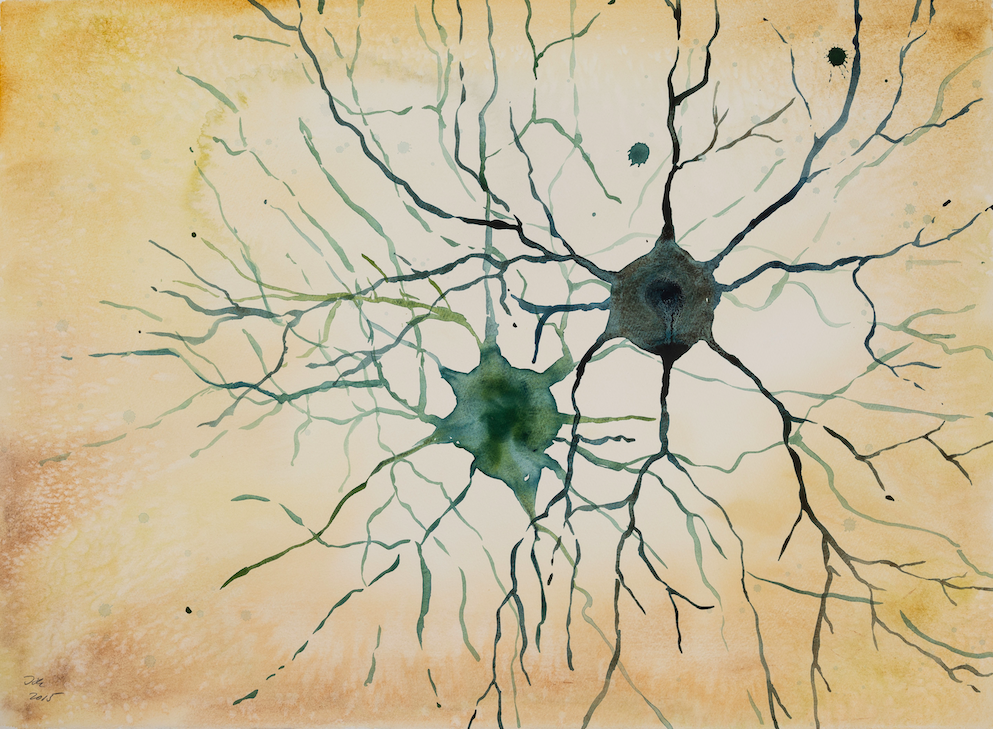 ---
Biorelevant culture of dopaminergic neurons on Biolaminin substrates
Biolaminin culture supports GMP-compatible differentiation of dopaminergic cells
Parkinson's disease (PD) is a complex and progressive neurodegenerative disorder that is characterized by the severe loss of midbrain dopaminergic (mDA) neurons, causing progressive loss of motor control and function. Parmar and colleagues showed in Cell Stem Cell (2016) that Biolaminin 111 can be used for the GMP-compatible differentiation of hESCs to dopaminergic cells (Kirkeby, 2016). This protocol results in defined, animal origin-free and clinically compliant progenitor cell population, composing of cells that express the markers identifying the right type of mesDA cells. Importantly, the yield of these correctly specified progenitors increased 43-fold compared to other EB-based protocols. The protocol has been validated in several independent labs and with many different hPSC lines both, hESC and hiPSCs. In all cases the hPSCs were expanded using Biolaminin 521, making the starting hPSC population homogenous and stable before initiation of DA differentiation experiments.
The authors in Kirkeby et al. showed how to precisely set the balance of patterning factors to obtain specifically the caudal VM progenitors that give rise to DA-rich grafts. The timely addition of carefully titrated FGF8 to the adherent differentiation protocol ensured that progenitors of caudal mesencephalic fate are enriched and contaminating progenitors destined for other fates such as neurons in the STN are reduced in numbers. Furthermore, using a panel of PCR markers, developed by using data from this article, batches of progenitors for transplantation can be predictive as giving high numbers of DA neurons after grafting and thus giving a better improvement of PD related deficits (Kirkeby, 2016).
A detailed protocol for better purity and high yield of dopaminergic progenitors for transplantation
The same group has published a detailed 16-d protocol for obtaining high-purity ventral midbrain (VM) dopamine (DA) progenitors for intracerebral transplantation into animal models and for in vitro maturation into neurons (Nolbrant, 2017). The protocol is free of animal origin-derived products and can be performed under good manufacturing practice (GMP) conditions. The authors have successfully transplanted such cells into the rat and the protocol is designed to also be compatible with clinical transplantation into humans. By specifying how to perform quality control, troubleshooting and adaptation of the procedure, this protocol will facilitate implementation in different laboratories and with a variety of hPSC lines. To facilitate the reproducibility of experiments and enable the shipping of cells between different facilities, the authors present a method for cryopreservation of the progenitors for subsequent direct transplantation or terminal differentiation into DA neurons (Nolbrant, 2017).
Niche-specific laminin promotes midbrain dopaminergic neuron survival and differentiation mediated by the transcription cofactor YAP
Zhang et al. investigated the mechanisms controlling the survival of mDA neurons and identified laminin 511-YAP as a key pathway by which niche signals control the survival and differentiation of mDA neurons (Zhang, 2017). The authors found that YAP was activated in midbrain dopaminergic neurons in culture and in mice through an interaction between integrin a3b1 and the extracellular matrix protein laminin-511. YAP then transcriptionally activated dopaminergic neuron differentiation factors and a microRNA that decreased the synthesis of the apoptotic protein PTEN. The findings uncover a new role for YAP in neurons and a pathway that might be explored for the purpose of promoting dopaminergic neuron survival in PD patients.
Efficient midbrain dopamine differentiation and improved grafting outcomes in parkinsonian rodents
Generation of highly pure midbrain dopamine cultures from hPSCs under feeder-free, fully defined, and animal origin-free conditions has been reported (Niclis, 2016). The cells displayed gene, protein, and electrophysiological properties of midbrain neurons, as well as improved grafting outcomes in parkinsonian rodents. Furthermore, ventral midbrain dopamine neurons were amenable to scalability and cryopreservation, crucial steps for the advancement of cell replacement therapy in Parkinson's disease.
Protocols:
Generation of high-purity human ventral midbrain dopaminergic progenitors for in vitro maturation and intracerebral transplantation
Highly pure midbrain dopamine cultures under defined and animal origin-free conditions
WHAT OUR CUSTOMERS ARE SAYING
"We have struggled for a number of years to establish a GMP manufacturing process for generating DA neurons from human embryonic stem cells in order to develop a stem cell-based therapy for Parkinson's disease. The recombinant laminins from BioLamina really made a world of difference!"

Prof. Malin Parmar,
Lund University, Sweden
---
Stem cell-based treatment for parkinson's disease
Professor Malin Parmar studies cell fate specification in the developing brain and in human neural progenitor cells by direct, efficient and controlled differentiation of human stem cells into subtype-specific neurons. Her research has made it possible to efficiently and reproducibly produce an hESC-derived dopaminergic progenitor cell product for a clinical trial for Parkinson's disease. This is her story!
2018-05-21
Dr. Agnete Kirkeby
Lund University, Lund, Sweden
GMP-compliant hESC-derived dopaminergic neurons
Here, Dr. Kirkeby presents a GMP-compliant protocol for neuralising hESCs directly from day 0 of differentiation in a scale suitable for clinical production. This approach not only enables us to get highly pure populations of DA progenitor cells (>90%), but it also increases our final yield of transplantable cells >40 times when compared to previous embryoid body protocols starting with the same number of cells. The protocol is published in Cell Stem Cell.
2015-04-30
Biolaminin Key Advantages
Differentiation on Biolaminins 111 and 521 can increase the number of dopamine precursor cell by over 40-fold. High yield of transplantable cells also cut culture costs.
An efficient protocol for the differentiation of hESCs to dopaminergic cells has been replicated with over 10 human PSC lines in different laboratories worldwide. Costs can be significantly reduced due to differentiation efficiency and phenotype authenticity.
Specific laminin isoforms are present in different tissue microenvironments and they are essential for cell survival, proliferation and differentiation. Biolaminin products allow you to imitate the natural cell-matrix interactions in vitro.
All our matrices are chemically defined and animal origin-free, which makes them ideal substrates for each level of the scientific process – from basic research to clinical applications.
Our products have consistent composition and quality. This enables minimized variability between experiments and uniform pluripotency gene expression profiles between different cell lines.
Numerous scientists have found our products and finally succeeded in their specific stem cell application. The power of full-length laminins incorporated into various cell systems is well documented in scientific articles and clinical trials.
---
Recommended products
Biolaminin 521 LN (LN521)

Human recombinant laminin 521

Biolaminin 521 LN is the natural laminin for pluripotent stem cells and therefore reliably facilitates self-renewal of human ES and iPS cells in a chemically defined, feeder-free and animal origin-free stem cell culture system. LN521 is animal origin-free to the primary level.

VIEW product
---

Talk to our team to get a custom proposal
We are here to help your journey.