A look back at our new production suite opening #2
Interview with Harald Eriksson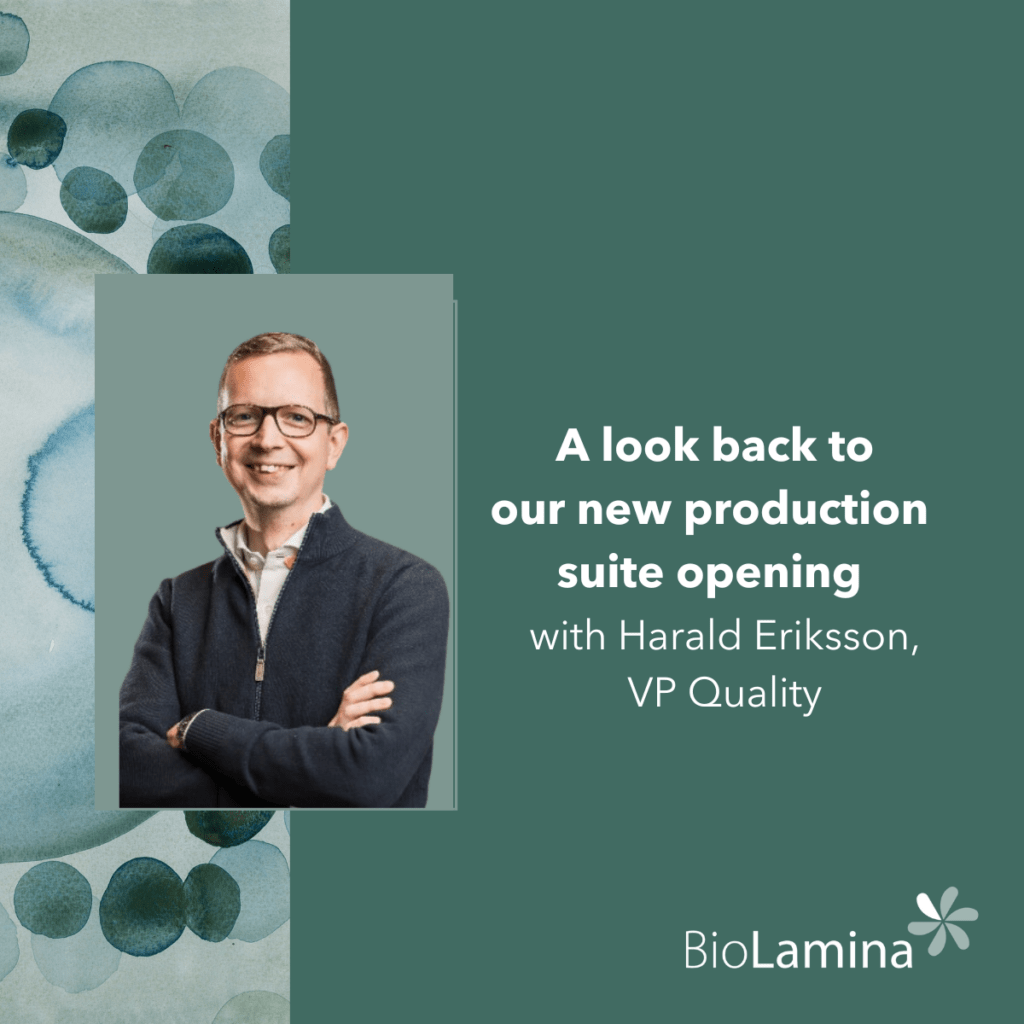 We recently announced the opening of our new production suite, a huge milestone for BioLamina. We wanted to show you what happened behind the scenes and present you few of the key team members who made it possible.
Here, Harald Eriksson, our VP Quality, tells us his perspective on the project, his role and the next steps.
Could you tell us about your career history?
I have a PhD from Stockholm University in (microbial) genetics, and I was recruited by BioLamina from AstraZeneca in 2021
Why did you join BioLamina?
First and foremost, our product is a cornerstone in future medicines (both human and veterinary), but also the basis of a whole range of other applications.
BioLamina is a fast-growing entrepreneurial company in biotech, with its sight on developing a GMP product, so it was an opportunity I could not miss!
What is your role at BioLamina?
I am the Vice President Quality, responsible for the development and management of our quality management system (QMS), of the quality assurance (QA) and quality control (QC) functions and of the Quality improvement journey that we are on.
Let's talk now about the opening of our new production suite. What was your role in the project?
I was part of the steering group, and responsible for the planning of the project, quality design decisions and review.
Could you tell me a highlight of the project for you?
All the dedication from not only the project team but also from every employee at BioLamina who supported the project. And of course, the first time we went into the facility when all utilities and HVAC were operational was truly a delightful experience.
Could you share a fun anecdote?
Several of us in the senior management team ended our weeks by visiting the facility, to be energized by all the progress made every week.
What challenges do you see ahead?
I look forward to starting continuous improvements and LEAN:ing the facility and workflows, now that the facility is operational and in use.
What advantages do you think the new production brings and will bring?
With the new production suite, we not only scale up our manufacturing capacity but also progress through a milestone in our quality improvement journey.
How did your department support the A2 project?
The Quality department was instrumental in the design and continuous review during the construction phase, and of course for the ultimate approval to start the facility and start of the manufacturing activities.
Do you have a last comment?
I want to express my gratitude for all the hard work made by so many highly skilled professionals who have been part of the different phases of the project!
Thank you so much!
To learn more about the opening -> BioLamina AB announces release of Biolaminin® 521 LN first batches from new production suite – BioLamina